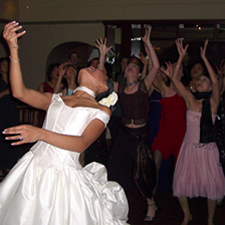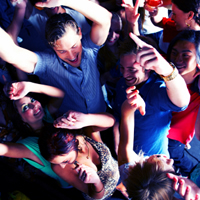 What "value" does our professional Los Angeles disc jockey & entertainment service provide to your wedding or special event? Have you ever attended a great party? What was it that made it better than other events? The food? The photographer? The flowers? Usually, it's the entertainment, Yet a survey reported that only 4 to 6 percent of a couples wedding budget is allocated for the most important element, the entertainment.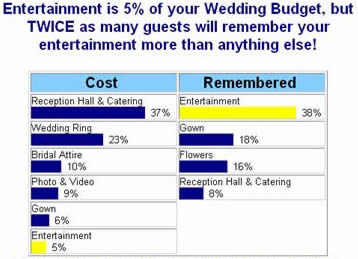 Source: Modern Bride
Yes, your gown and your Food are important, but the selection of Music and Entertainment can determine the success of your event. We guarantee your guests will stay after the meal to party; Your Photographer and Videographer will have something to shoot and your guests will stay long enough to really remember your gown! Statistics show that Mobile DJs carry 75 to 80% of the responsibilities at the average wedding reception. Many couples attribute 80 to 90% of the success of their reception to their DJ. Yet only 5% (or less) of the total budget is spent on entertainment in many cases.
On the other hand, most couples spare no expense on the food, making it the largest expense in the budget. Studies show that many will spend more on a vegetable platter than they are willing to spend on a professional mobile DJ. Ironically, most of the vegetable platter gets thrown out.
No price (high, low or average) is a good price if you don't get the quality entertainment and service you need. With this in mind, think about what percent of your event's budget should be devoted to hiring professional entertainment that will guarantee the success of your event.
As you look at different entertainment companies, compare them on the basis of the service they offer you. Prepare a list of questions to ask EVERY company and record their answers. Use the answers to rule out the companies you don't want to work with, and rank the remaining companies based on their answers. Call  references from the remaining companies.
Remember, it costs a lot of money to form and run a quality professional DJ service. Money must be spent on professional Development (our staff attends mandatory training seminars annually), building and maintaining a diverse music library (so requests from you and your guests can be honored) , purchasing and maintaining quality professional equipment (that looks and sounds good and works reliably at every event) , insurance, advertising, accounting, etc. The time the DJ service spends working with you to plan and customize your event Before and During your event also costs money. On average, 4-6 hours prep time goes into an event before we actually arrive to set-up. This includes researching song titles and locating specific music requests, and finally gathering all pertinent wedding info you  filled out on our easy to use online planner, assembling all this information into a useable format. . All of our package prices cover normal setup and breakdown time (which does NOT count towards the entertainment hours).
Our prices cover more than just playing music.  In our continuous effort to save our clients both time and money, all of our entertainment packages include a timesaving in-depth online planner to use at your leisure while in the comfort of your home or office. Clients have found that with all the details covered in our extensive online planner, consultations are rarely  necessary in their busy schedules. However personal consultations are available upon request.
We are a professional entertainment service with years of experience creating fun parties. Our prices reflect this. If you carefully evaluate us you will find that we offer reliability, experience, pleasing and cooperative personalities, enthusiasm, professional equipment, an extensive music collection, and a level of personal service that makes our prices an excellent value.
When Is Something Worth More?
Supercuts gives you a decent haircut at a good price.
For your Wedding Day, you WILL go to a "salon."
Flowers from the supermarket are cheap and convenient.
For your Wedding Day, you will hire a "floral designer."
Your car is very reliable and gets you where you need to go.
For your Wedding Day, you will hire 1 or 2 stretch limousines.
Disposable cameras take pretty good pictures and they're cheap!
For your Wedding Day, you will hire a "wedding photojournalist."
For a backyard barbecue, just about any DJ will do.
For your Wedding Day, don't you want to hire the best DJ possible???
There are no "do overs" on your wedding day.
Don't trust a lifetime of memories to "just any DJ."
Please hire an experienced Professional DJ.
Los Angeles DJ Sam House is a Professional Los Angeles Disc Jockey
providing QUALITY ENTERTAINMENT all over Southern California.
Call Now to Reserve your Date!
(310) 948-2999